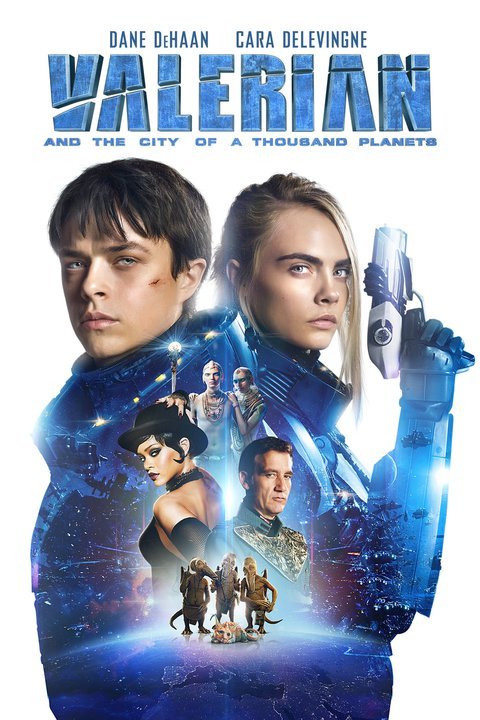 Valerian and the City of a Thousand Planets
PG-13
2h 17min
Action, Adventure, Science fiction
21 July 2017
Director: Luc Besson
Starring: Dane DeHaan, Cara Delevingne, Clive Owen
Two special operatives travel to an intergalactic city where a dark force threatens the universe.
Filmmaker Profile
Luc Besson's science-fiction adventure springs to life in Dolby Vision and Dolby Atmos on a screen near you.
In the 28th century, military operatives Valerian and Laureline are sent to the planet Alpha, whose 17 million inhabitants and thousands of species live in peace, sharing their knowledge and talents. But an unknown force threatens to wipe out this utopia, and our heroes, played by Dane DeHaan and Cara Delevingne, have only 10 hours to identify and destroy it.
With more than 2,700 visual effects shots illuminating worlds within worlds on Alpha, Valerian and the City of a Thousand Planets is a feast for the eyes. From deep, dark underwater settings to an electrified world bristling with gold-colored metallic aliens, Dolby Vision™ imaging brings out the dramatic visuals in every scene.
"Creating all those worlds, the creatures, was so much fun," says producer Virginie Besson-Silla, who worked alongside director-writer Luc Besson.
Known for his films Léon: The Professional and La Femme Nikita, Besson says, "When you make a film, you have a big toolbox, using dialogue, color, sound."
"When Dolby Atmos comes [along], you start writing for it. You start to think about how you can tell another story with the sound overlaid on the other story. … On Valerian, it's just amazing."
As one film critic wrote in the New Republic, "Valerian is funny, gorgeous, and full of the type of mind-bending scenarios that remind you of what fantasies are for."